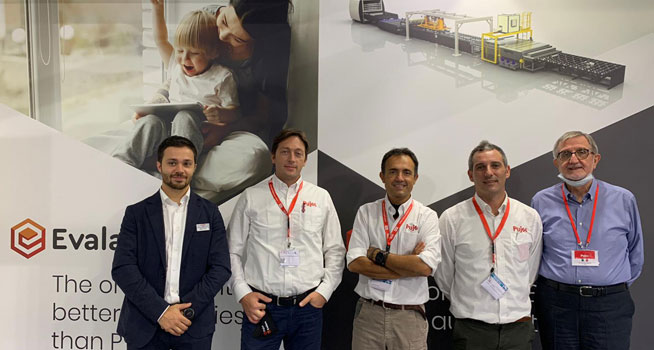 Pujol Group at Vitrum 2021
Once again, we have been at Vitrum fair in Milan. From October 5th to 8th we had the opportunity to meet again and attend in person the glass processors to whom we showed them for the first evolution of our successful LAM-PRO and LAM-PRO TOP range: new designs and new functionalities. The renewed range is available in 24 possible configurations. At the same time, we celebrated the ten years of the launch of Pujol 100 range, a landmark that transformed the laminated glass industry.
We also showed our Pujol e-Connect service, the solution for Industry 4.0 that is included as standard in our ovens. This system allows remote control of the laminating process, as well as remote technical assistance. It also offers information to do a complete data analysis and know what is happening in the oven and also it is possible to obtain clear and quick information on the production process.
Regarding EVALAM, we showed the range of products that includes both the transparent range with Evalam Visual, Evalam N-Fluent and the complete range of colors that is made up of 14 tones, 5 of them meet European 12543-4:2011 standards for outdoor installation.
It was a great opportunity to personally attend customers and to start negotiations for ambitious and important upcoming projects.