To be used in conjunction with the range of machines offered by Hornos Industriales Pujol, Evalam offers an extensive assortment of consumables to help you achieve the best results in laminated glass:
Vacuum system with silicone bags


Vacuum system with silicone closure
Silicone bag that withstands laminating temperatures. Its main function is to contain the sheets of glass during lamination; it features an omega (Ω) shaped closure to ensure a quick, simple and effective closure of the vacuum bag.
Teflon mesh
Graph-ruled Teflon blanket which allows air to flow freely outside the vacuum bag. Teflon's non-stick properties means that any EVA leaks appearing during the laminating process will be very easy to clean.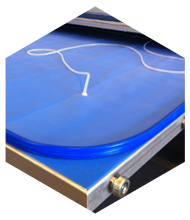 Single use vacuum system
Complete and reliable single-use vacuum bag system. This system is made up of different components:


Single use vacuum system


Elastic for closing bags
This is a double-sided sealing tape that tolerates temperatures up to 205ºC and is used for sealing single-use vacuum bags.


Filter fabric


Valve for single use bag
Self-piercing valve for use with connections to single-use vacuum bag.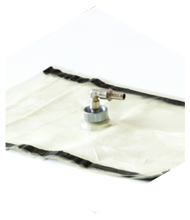 Accessories
Adhesive tape
Especially designed to withstand temperatures up to 180ºC. These are used during baking to hold two or more pieces of glass together and/or to seal the edges of the glass and prevent excess EVA spilling during the lamination process and spattering the inside the vacuum bag.


Neutralizer
Liquid solution, available in one-litre containers for optimum glass cleaning.


Silicone
Transparent silicone for vacuum bag repair.


EVA bars
EVA sealing bars that are fully compatible with all EVA products developed by Evalam.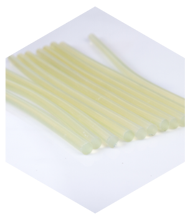 Tools
Thermocutter and replacement blades
Designed for easy and effortless cutting. Operates at precise temperatures according to the material to be cut. Cuts and seals edges with EVA with minimal smoke and no burnt edges.


Polishing machine
Get a perfect finish on edges and surfaces of laminated glass easily, rapidly, and conveniently. Cleans glass to a perfect and precise finish after the use of the thermocutter to remove excess EVA. With the rubber disc, excess EVA is eliminated from laminated glass, without scratches or abrasions on the glass surface.


Hole polishing tool
This machine is used for polishing holes in glass sheets which need to be fixed using spider systems.


Glue gun
Sealing tool which uses silicone glue sticks.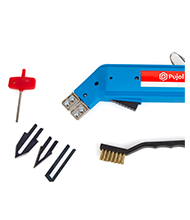 Contact
Our greatest guarantee is your satisfaction


Address
Pol. Ind. Penapurreira Parcela C4-B, 15320 As Pontes de García Rodríguez (A Coruña) SPAIN
Telephone
Tel. Barcelona: +(34) 936 855 672
Tel. Galicia: +(34) 981 455 108
Fax: +(34) 936 855 392
Call us: 936 855 672
Subscribe to our newsletter