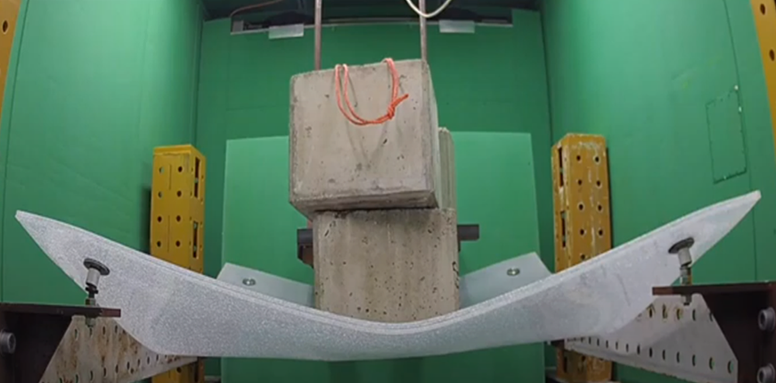 AB-AR: new test demostrates even greater reliability
We demonstrate the superior reliability and behaviour of AB-AR over other structural interlayers


AB-AR has been subjected to structural safety behaviour testing. On this occasion, samples were subjected to post-fracture resistance testing at a temperature of 50 °C. This test was performed in the environmental chambers of the Institute of Structural Engineering at the University of Bundeswehr in Munich, world leader in the field.


For impact testing, double tyres were used (according to DIN 18008-4 at 50 kg or 100 kg; air pressure at 20 °C and 3.5 bar) with a drop height of 900mm. To test the post-breakage scenario, several 100 kg concrete cubes were placed on the glass. The position for impact and loading (post-breakage scenario) was the centre of the panel and the test was conducted at a temperature of + 50 °C.   
 
The loading tests performed on the glass to verify its behaviour were as follows:


100kg load for 30 min on the centre of the glass


200 kg load for 15 min on the centre of the glass


300 kg load for 15 min on the centre of the glass


400 kg load for 15 min on the centre of the glass.


The 400 kg load was left on the glass for 24 hours, after which time the laminated safety glass was inspected.


Deflections were measured after the full load time had elapsed before increasing the load called for in the next step of the test programme.
The results show that the AB-AR interlayer laminated glass show better performance as it can withstand a load of 400 kg for 24 hours at a temperature of 50 °C and a maximum deflection of 210mm showing no signs of weakness. Other tests conducted on other structural products on the market, such as ionomer-based interlayers, show collapse after 53 minutes under the same ambient temperature conditions of 50ºC and a load of only 300 kg.
This is a new test which only confirms the superb quality and reliability offered by the AB-AR interlayer compared to other ionomer-based interlayers on the market, which is why the AB-AR interlayer has been awarded certifications that exceed the standards of the demanding German market.