A terrace to the most beautiful scenery of the Adriatic.

No matter where he is in the hotel, the guest gets the impression he is staying in a park overlooking Rovinj, St. Euphemia, the island of St. Catherine and the most beautiful sea sunset. Located directly on the coast, near the marina and the promenade, it connects the inner-city area of ROVINJ (Croatia) with the tourist attractions of the Monte Mulini zone.
The different levels of the hotel adapt to the slope of the terrain and form large terraces, Mediterranean gardens and swimming pools.
Italian architect and designer Piero Lissoni were in charge of the interior design. The common spaces of the hotel are characterized by a multitude of details, including the use of laminated glasses in the interior of the hotel as a functional and decorative element. Special attention was dedicated to styling. The materials, earthy tones and colors prevail in the rooms, a counterpoint to the blue sky and the sea that surround the hotel.
Evalam Visual, due to its excellent transparency and quality not comparable in the market, was the option chosen to be installed on railings, glass partitions, and other decorative and functional elements, thereby achieving an appearance of elegance and sobriety according to the Hotel category.
The architects of the 3LHD studio and the Italian designer Piero Lissoni who was in charge of the interior design, achieved the magic on this balcony of the Adriatic Sea.
Architects: 3LHD
Interior design: Piero Lissoni (Lissoni Architettura)
Laminator: Staklorez Buric​​
Solutions: Evalam Visual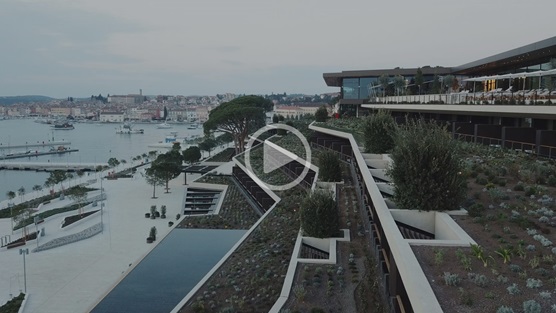 Contact
Our greatest guarantee is your satisfaction


Address
Pol. Ind. Penapurreira Parcela C4-B, 15320 As Pontes de García Rodríguez (A Coruña) SPAIN
Telephone
Tel.: +(34) 936 855 672
Fax: +(34) 936 855 392
Call us: 936 855 672
Subscribe to our newsletter